Potential for Distracted Driving Reforms in Georgia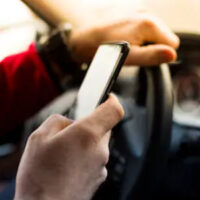 Drivers in Marietta should know that distracted driving is a serious problem, particularly distracted driving that involves texting or surfing the internet on a smartphone. Studies continuously show that drivers cannot pay adequate attention to the road while processing information contained on a smartphone screen. Yet distracted driving accidents continue to occur. In an effort to better deter distracted drivers and to prevent distracted driving car accidents in Georgia, state lawmakers have begun considering proposed legislation to increase penalties for distracted driving.
Proposed Distracted Driving Legislation in Georgia 
Recognizing that drivers simply do not always obey the law in Georgia that prohibits the use of handheld mobile devices while driving, Georgia lawmakers proposed legislation that would significantly increase the penalties associated with distracted driving. In its original form, House Bill 113 would have "doubled the fines for distracted driving," according to an article in The Atlanta Journal-Constitution. Indeed, the proposed legislation would have resulted in a minimum $100 fine for a first offense, $200 for a second offense, and $300 for a third offense.
However, as that article clarifies, lawmakers opposed to the drastic increase in penalties made amendments to the originally proposed legislation. Under the new legislation that remains pending and could still be enacted into law, the House Public Safety and Homeland Security Committee "approved a substitute to the bill that would make the fine for distracted driving $25 to $100 at a judge's discretion, regardless of how many previous citations an offender had." The new legislation also would make it unlawful for drivers under the age of 18 to use any type of electronic devices while driving.
Rep. John Carson, who sponsored the bill, indicated that "higher fines are needed to encourage motorists to put down their cellphones." 
Comparative Fault Can Impact Your Distracted Driving Claim 
It is important to keep in mind that, although we all know distracted driving is dangerous, a distracted driver's liability can still be reduced if another driver was partially at fault for the crash. Under Georgia's comparative negligence law, a plaintiff who is 50 percent or more responsible for injuries in a collision is barred from any type of recovery. However, if the at-fault party alleges that you are also to blame, Georgia law allows you to recover damages as long as you are 50 percent or less at fault. If a plaintiff is found to be partially at fault (but less than 50 percent at fault), that plaintiff's damages award will be reduced by his or her percentage of negligence.
To be clear, even if another driver caused an accident because that driver was texting or scrolling social media apps while driving, you could also end up having your recovery reduced if that distracted driver says you are partially at fault for the collision or the severity of your injuries.
Contact a Marietta Distracted Driving Accident Lawyer 
If you or someone you love sustained injuries in a collision caused by a distracted driver, it is important to do everything you can to seek financial compensation for your losses while holding that at-fault driver accountable. A dedicated Marietta distracted driving accident attorney can speak with you today about your case and to help you move forward with a claim. Contact The Strickland Firm to learn more about how our firm can assist you.
Resource:
ajc.com/news/state–regional-govt–politics/panel-revises-georgia-distracted-driving-bill-reduce-proposed-fines/fmopuyyOh7H3XT6TjMjDgN/
https://www.thestricklandfirm.com/distracted-driving-in-georgia/