What You Should Know About Wrong-Way Crashes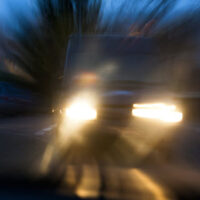 Wrong-way collisions are often devastating crashes that result in serious and deadly injuries. According to the National Transportation Safety Board (NTSC), wrong-way driving is defined as "vehicular movement along a travel lane in a direction opposing the legal flow of traffic on high-speed divided highways or access ramps." Wrong-way crashes are often linked to head-on collisions, as well as median-crossover accidents. Given that these wrecks frequently occur at high speeds, they are usually very serious. To be sure, many vehicle occupants do not survive a wrong-way collision.
Whether you were involved in a crash yourself or recently lost a loved one in a wrong-way collision, we want to help you seek the financial compensation you deserve while holding the at-fault driver accountable. The following are some key things to know about wrong-way car accidents in Georgia.
Wrong-Way Collisions Often Cause Permanently Disabling and Fatal Injuries 
According to the NTSB, wrong-way collisions are some of the most serious types of crashes. Since they usually occur at high speeds on highways and freeways, the risk of serious or fatal injury increases significantly. Moreover, given that many wrong-way crashes are head-on collisions, there is a serious risk of deadly injury.
While the NTSB explains that wrong-way crashes happen far less frequently than other types of accidents (only about 3 percent of all motor vehicle collisions are wrong-way crashes), they result in fatal injuries more often than other types of accidents. To be sure, the NTSB reports that wrong-way collisions may have a fatality rate of "27 times that of other types of accidents." 
Alcohol is a Major Factor in Wrong-Way and Head-On Collisions 
Alcohol is a major factor in a majority of wrong-way crashes. While you might certainly imagine that this type of accident could happen when a driver falls asleep at the wheel, these crashes occur most often when a driver is drunk. The NTSB reports that more than 60 percent of wrong-way collisions involve a drunk driver. 
Filing Timetables Are Different If You Are Filing a Personal Injury Claim or a Wrongful Death Claim 
Many wrong-way collisions are fatal. You should know that the "clock" on the statute of limitations begins "ticking" at different points for personal injury and wrongful death lawsuits in Georgia. While both types of cases have a two-year statute of limitations, the clock begins ticking on the date of the injury for a wrongful death lawsuit, while it begins ticking on the date of death in a wrongful death lawsuit. In some cases, those dates are the same. In other situations, however, the injured party may survive for a few days, a few weeks, or even longer before succumbing to the injuries. 
Seek Advice from a Marietta Car Crash Lawyer 
If you have questions or need assistance with a wrong-way collision claim, you should speak with a Marietta car accident attorney as soon as possible. At The Strickland Firm, we routinely represent injury victims in many different types of motor vehicle crash claims, and we can get started on your case today. Contact The Strickland Firm for more information about the services we provide to clients in and around Marietta.
Resource:
ntsb.gov/safety/safety-studies/Documents/SIR1201.pdf
https://www.thestricklandfirm.com/top-things-to-know-about-drowsy-driving-accidents/