Who Is At Fault For A Rear-End Collision?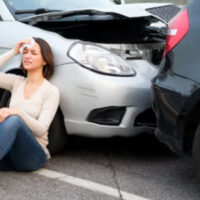 Rear-end collisions are some of the most common types of auto accidents. As the name implies, these accidents occur when the front of one vehicle hits the rear of another. Rear-end collisions sound like minor occurrences, but they have the same potential to cause serious injuries as any other type of crash. Just like after any other type of accident, victims must determine who was at fault for the collision in order to claim damages. Many people think determining fault after a rear-end collision is easy, but that is not always the case.
Law Enforcement will Usually Cite the Rear Driver
Law enforcement should always be called out to the scene after any accident. When they arrive on the scene after a rear-end collision, they will usually issue a ticket to the driver who was in the rear and who struck another vehicle. Traffic tickets can have an impact on civil car accident claims. However, just because someone is given a traffic ticket does not mean that they are guilty of the offense. To determine who is at fault after a rear-end collision requires an examination of the facts, and the law.
Following Too Closely
Georgia law states that anyone operating a motor vehicle should follow other vehicles at a distance that is reasonable and prudent. Motorists should also always keep in mind the conditions of the road, traffic conditions, and the speed of other vehicles when they are following behind another vehicle. Drivers who do not comply with the law can be found liable for paying damages if they cause an accident.
Following another vehicle too closely is very dangerous and can easily result in a rear-end collision. The general rule is that drivers should leave a distance of two seconds between them and the vehicle in front of them.
Failure to Signal
Although in many instances, the driver who strikes another vehicle from behind is at fault, there are times when the driver in the leading vehicle can also be found liable. Georgia law also states that no motorist should stop or suddenly decrease the speed of their vehicle without first signaling that they are about to do so. Under this law, drivers can be found at fault for a rear-end collision if they stop very abruptly, failing to give drivers behind them a chance to stop in time.
Our Car Accident Lawyer in Marietta Can Determine Fault After a Crash
If you have been hurt in a rear-end collision, our Marietta car accident lawyer at The Strickland Firm can help. Our seasoned attorneys will conduct an investigation and collect important evidence to prove your case. During our investigation, we will determine who is to blame for your injuries and we will hold them accountable for paying the full and fair damages you are entitled to. Call us today at 1-844-GAJUSTICE or contact us online to schedule a free initial consultation and to learn more about your legal options.
Sources:
law.justia.com/codes/georgia/2018/title-40/chapter-6/article-3/section-40-6-49/
law.justia.com/codes/georgia/2010/title-40/chapter-6/article-6/40-6-123