Suing A Drunk Driver In Civil Court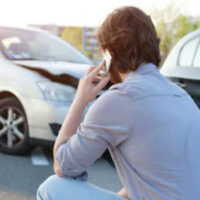 When most people think of a drunk driving accident, they think of a criminal case, because drunk driving is, in fact, a crime. However, it is possible for a victim to bring suit against a drunk driver in civil court as well, seeking money damages. Enlisting an experienced attorney to help prepare your case is extremely important, as there are a lot of details that need to be in order if you want to have a chance at prevailing.
DUI Law
Georgia law on driving under the influence states that no person should drive or be in "actual physical control" of a moving vehicle while under the influence of any kind of substance that might make it less safe for them to drive, including substances they have the right to use (or substances that are generally legal). The penalties for driving under the influence are serious, and appropriately even more significant if property damage, injury or death occur. In addition, drunk drivers are more likely to leave the scene of an accident, despite doing so being a felony.
Drunk drivers are required by Georgia law to carry insurance, just like any other driver in Georgia, and if you are able to show liability, their insurance should cover your medical bills and any other expenses. However, drunk driving cases are unusual in that they are more likely to allow punitive damages. Punitive damages are allowed when a plaintiff can establish the defendant's "entire want of care" or "willful misconduct," as opposed to mere negligence – in other words, if the defendant's conduct is egregious, rather than simply negligent or reckless. The standard of evidence required to get punitive damages is very high, but it is not impossible.
Negligence Per Se
If you are involved in a car accident with a driver who was under the influence, there is one legal advantage to the driver being under the influence, in that you do not need to prove negligence if you can establish that the driver was drunk or otherwise compromised. Normally, to hold a driver liable in a car accident case, you must establish that they breached their duty to exercise reasonable care, and that their breach of duty was the direct cause of your injuries.
If you can establish that the driver was under the influence, you can (at least in theory) eliminate some of those steps. Showing that a defendant violated one of the Uniform Rules of the Road gives rise to a finding of negligence per se unless there is a valid defense. This means that the jury does not have to establish that the defendant was negligent – it is assumed as a matter of law that they simply were. In Georgia, this presumption is rebuttable, meaning that the defendant can try to show that they were not negligent, but often, the presumption stands, making it easier for the plaintiff to recover for their injuries.
Contact A Marietta Drunk Driving Lawyer
If you have been injured by a drunk driver, seeking civil liability for the harm you suffered may ensure that your medical bills and other expenses are covered. The Marietta drunk driving lawyers at The Strickland Firm can offer experienced and compassionate representation during the process that will hopefully help guide you through. Contact our offices today for a free initial consultation.