Can Comparative Fault Affect a Drunk Driving Accident Case?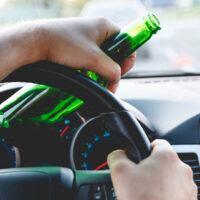 Were you recently injured in a Georgia car accident caused by a drunk driver? These kinds of crashes can be devastating due to their severity and the knowledge that the collision was absolutely preventable. According to the U.S. Centers for Disease Control and Prevention (CDC), nearly 3,700 people died in drunk driving crashes in Georgia between 2003-2012, and about 1.4 percent of Georgia drivers admit that they have driven drunk at least once in the last month. Given that most motorists in and around Marietta recognize the serious risks of intoxicated driving, anyone who has been seriously harmed in a collision might assume that it will be relatively easy to prove that the drunk driver was at fault and should pay damages.
However, like in many other kinds of car crashes, an intoxicated driver might attempt to avoid paying damages at all, or might attempt to reduce his or her liability for damages, by raising the issue of comparative fault. Can comparative fault actually be a factor in a drunk driving car accident case? In short, comparative fault can come up in nearly any personal injury case, but it might not end up affecting a plaintiff's ability to recover after an intoxicated driving crash.
What Do I Need to Know About Comparative Fault? 
Under Georgia law, comparative fault (which can also be discussed in terms of comparative negligence, or contributory fault or negligence depending upon state law) is a defense. In a personal injury case in Georgia involving a drunk driver, that drunk driver might say that the injured plaintiff is also at fault for her injuries for one reason or another. Accordingly, the drunk driver may argue that the plaintiff should not be entitled to any damages, or that, at the very least, the plaintiff's damages award should be reduced based on her percentage of fault. Just because a defendant raises the issue of comparative fault does not mean that the court will find that defense credible. The plaintiff can also provide evidence to show that comparative fault is not an issue.
But what happens if the court says the plaintiff is partially to blame? Georgia follows what is known as a "modified" comparative fault rule. Here is how it works: if the court believes the defendant and agrees that the plaintiff is partially at fault, the plaintiff can still recover damages as long as she is less than 50 percent at fault (i.e., the plaintiff must be 49 percent at fault or less). Then, the plaintiff recovers damages, but the damages award gets reduced by her portion of fault. Once the plaintiff is 50 percent or more to blame, however, the plaintiff is barred from any recovery at all.
How Can Comparative Fault Even Be Considered When the Defendant Was Drunk? 
Drunk drivers will have difficulty proving that the plaintiff was also responsible for the collision—especially when it comes to proving that the plaintiff was 50 percent or more at fault. However, some allegations a drunk driver could make against the plaintiff that could result in her damages award being reduced might include, for example:
Plaintiff was texting while driving;
Plaintiff was speeding at the time of the accident;
Plaintiff was also intoxicated; or
Plaintiff was too tired to drive.
Seek Advice from a Georgia Drunk Driving Accident Lawyer 
Do you have concerns about filing a drunk driving accident claim? An experienced Marietta drunk driving accident attorney at our firm can help you seek the financial compensation you deserve. Contact The Strickland Firm for more information and to get started on your claim.
Resource:
cdc.gov/motorvehiclesafety/pdf/impaired_driving/Drunk_Driving_in_GA.pdf
https://www.thestricklandfirm.com/5-things-to-know-if-you-are-injured-by-an-impaired-driver/