What Are the Steps of the Foreclosure Process in Georgia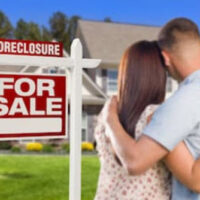 Missed Mortgage Payment
The foreclosure process is triggered by the borrower (homeowner) missing a mortgage payment.  Usually, the borrower missed the payment because they are facing extraordinary financial difficulties. Because if these financial difficulties, the first missed payment is then followed by several more missed monthly mortgage payments.
Default/Acceleration Notice
After a borrower has failed to catch up with one or more missed payments, the lender will send a letter to the borrower notifying the borrower that they are in "default" on the mortgage loan.  Sometimes, this letter will also "accelerate" the loan because the terms of some mortgages state that a borrower failing to catch up on missed payments for a certain number of days means that the lender has the right to demand the entire amount of the mortgage be paid almost immediately.  Because people who didn't have enough money to catch up with missed mortgage payments are almost never able to pay the even larger amount of the entire loan, the foreclosure process usually proceeds to the next step.
Foreclosure Notice
Growth is law requires that a lender seeking to foreclosure on a mortgage must send a letter to the borrower containing certain specific information including the date of the scheduled foreclosure sale and the contact information for the lender (or services) that has the authority to deal with the borrower on the loan.  In reality, once the lender has reached this point in the process, they are often unwilling to negotiate any delay of the foreclosure sale, but the lW in Georgia requires them to provide this information in the foreclosure notice letter.
Foreclosure Sale
The foreclosure sale is conducted as a public auction by the lender of the property. The sale takes place outside the courthouse ("on the courthouse steps") of the county in which the property is located. Prior to the sale, the lender is required to advertise for several weeks  in the legal notice section of the local newspaper that the property will be going up for sale.  Any person (typically, investors) with interest in purchasing the property may bid on the property at the foreclosure sale. If the lender does not get the price they want at the foreclosure sale, the home becomes the property of the lender to do with as they please.
Contact Our Experienced Marietta Foreclosure Attorneys Today
At The Strickland Firm, our Marietta foreclosure attorney knows how to hold large financial institutions accountable. If your home or business is facing foreclosure, you need professional representation. We will protect your rights.
To request a free, confidential consultation, please contact our law firm toll free at 1-844-GAJUSTICE or locally at 770-420-9900. With an office in Marietta, we serve communities throughout the region, including in Cobb County, Fulton County, DeKalb County, Douglas County, and Paulding County.
https://www.thestricklandfirm.com/marietta-foreclosure-attorney/