You Don't Have to File for Bankruptcy to Stop Foreclosure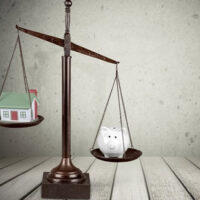 Many clients have come to our firm over the years for advice on trying to stop a foreclosure sale on their home or property.  Before speaking with us, most did not know that there were ways to stop a foreclosure.  When a persona in this situation researched options online, they are bombarded with bankruptcy firms touting the benefits of filing bankruptcy in order to stop a foreclosure.  There are also a number of groups of investors advertising that they can stop your foreclosure sale through various sales of the property, often at an incredibly high cost to the homeowner.
Our firm offers neither of these services.
Instead, we are prepared to stop your foreclosure with one of the several options discussed below.
Consult Foreclosure Defense Attorney First
The most important thing to do is contact the experienced Marietta foreclosure attorneys at The Strickland Firm to hear all of your options.  For instance, a bankruptcy attorney can file bankruptcy for you but that can result in you losing any legal claim you might have against the lender for wrongful foreclosure (if not handled properly) or be much more costly to the homeowner and their credit score(s).  After speaking with our firm, we can tell you whether one of these other options is better for you.  Keep in mind, you can always file for bankruptcy instead of these options, but it is important that you know your options before making that decision.
Temporary Restraining Order
A temporary restraining order ("TRO") is an order from a judge commending the mortgage lender not to conduct the foreclosure sale on your property.  Lenders are required to follow this order or face harsh sanctions from the court including payment of attorney fees and/or reversal of any sale they conduct in violation of the TRO.  The TRO is invaluable in stopping a foreclosure sale because they can be obtained on an emergency basis.  This means that within 2-3 days after your attorney files for the TRO, the court can be issuing an order to stop the foreclosure sale.  I have personally obtained orders like this mere hours before a foreclosure sale was scheduled to occur.  Of course, in order to maximize your chance of success, hiring an attorney to do this should be done as soon as possible so that your attorney can best schedule the timing of the filing.
In order to succeed in obtaining a TRO, the homeowner must satisfy several requirements, as discussed in an excerpt from a recent (successful) filing from our firm:
"Georgia law authorizes this Court to grant the equitable relief requested here, namely enjoining a foreclosure sale of the Property.  Georgia law provides for equitable relief, generally, as follows: "Equity, by a writ of injunction, may restrain . . . a threatened or existing tort, or any other act of a private individual or corporation which is illegal or contrary to equity and good conscience and for which no adequate remedy is provided at law." O.C.G.A. § 9-5-1.  The granting of injunctions rests in the sole discretion of the judge.  O.C.G.A. § 9-5-8.  O.C.G.A. § 9-11-65(a) provides the Court with the authority to issue an interlocutory injunction upon a showing of immediate and irreparable harm to the requesting party.  Likelihood of success on the merits is not required.  Zant v. Dick, 249 Ga. 799, 294 S.E.2d 508 (1982).
A motion for interlocutory injunction is an extraordinary motion, which is time sensitive, unlike other motions, because it seeks to preserve the status quo until a full hearing can be held to avoid irreparable harm.  Focus Entertainment International, Inc., v. Partridge Greene, Inc., 256 Ga. App. 283, 568 S.E.2d 183 (2002).  In Focus, the Georgia Court of Appeals found that foreclosure was an instance when "injunction is appropriate" because "when an interest in land is threatened with harm, such harm is deemed to be irreparable due to the unique character of the property interest, i.e., money damages are not adequate compensation to protect the interest harmed."  Id.   See also, Rife v. Corbett, 264 Ga. 871, 455 S.E.2d 581 (1995) (injunction to protect easement);  Benton v. Patel, 257 Ga. 669, 672, 362 S.E.2d 217 (1987) (injunction to stop foreclosure) and  Black v. American Vending Co., 239 Ga. 632, 634, 238 S.E.2d 420 (1977) (law regards land as sufficiently unique that equity will enforce contract for land sale or lease).  Here, the threatened harm – that Petitioner will lose all property interest in the Property – cannot be adequately compensated by money damages alone.
The Court must simply balance the convenience and harm to the respective parties based on whether greater harm would result by the grant or denial of the injunctive relief.  Outdoor Adver. Ass'n of Ga., Inc. v. Garden Club of Ga., Inc., 272 Ga. 146, 147, 527 S.E.2d 856 (2000) Accordingly, and under the authority of O.C.G.A. § 9-11-65(a), it is vital for the court to issue an interlocutory injunction to enjoin the foreclosure sale of the Property.   Petitioner will suffer immediate and irreparable injury, loss, and damage if not afforded the temporary injunctive relief requested."
Civil Lawsuit
As a separate option from the TRO – and often filed along with the TRO, a homeowner facing foreclosure may have a claim for money damages against the lender for wrongful foreclosure.  The experienced Marietta foreclosure attorneys at The Strickland Firm can advise you whether you have a case in this regard and are prepared to successfully bring that case, often in conjunction with a TRO.
The Marietta foreclosure defense attorneys at The Strickland Firm can help you understand your options going forward, and protect your rights if trial becomes necessary. Contact the offices today for a free consultation.