Five Steps To Take After A Motorcycle Accident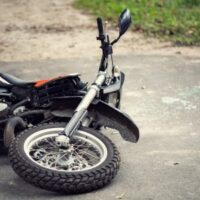 With gorgeous weather all year round and great scenery, Marietta is a great city to ride around on a motorcycle. Traffic accidents involving motorcycles, though, are some of the most dangerous. The aftermath of these crashes is also very difficult, as insurance companies, judges, and juries often hold biases against bikers. If you have been hurt, it is crucial that you take certain steps to protect your claim. Below, our Marietta motorcycle accident lawyer explains what those are.
Seek Medical Attention
Motorcycle accidents can result in some of the most serious injuries. Broken bones, traumatic head injuries, and road rash are just a few of these. Your safety and well-being is the biggest priority right now and it is important you protect it by visiting a doctor. There is little chance that you will escape a motorcycle accident without injuries. Even if you think you are not badly hurt, it is important to see a doctor who will conduct a full examination to determine the full extent of injury.
Follow Treatment Plans
Seeing a doctor will not do you much good if you do not follow their instructions. Following all treatment plans recommended by your doctor will ensure you recover as much as possible from your injuries. Following the advice of your medical team will also show the insurance company that you are serious about your injuries, and they should be, too. If you do not follow your doctor's advice, the insurer may use that against you.
Do Not Speak to the Insurance Company
The insurance company of the negligent party will contact you shortly after the crash. They will seem friendly and helpful and as though they are on your side. They are not. They want to get a recorded statement from you and have you sign away your rights so they can protect their profit. They do not want to give you the fair settlement you deserve. Always direct the insurance company to your lawyer who will ensure nothing is said that will hurt your claim.
Stay Off Social Media
The insurance company will look for anything to use against you. While you may not think your posts on Facebook or Twitter have anything to do with your claim, that is not the case. The insurance company will access your timeline and take innocent posts out of context. They also do this so they can protect their own bottom line and not pay you the full damages you are entitled to. Stay off of social media after a motorcycle accident, at least temporarily.
Call Our Experienced Motorcycle Accident Lawyer in Marietta
One of the most important steps you can take after a crash is to speak to one of our Marietta motorcycle accident lawyers at The Strickland Firm. We will collect the necessary evidence to prove your case and negotiate with the insurer to recover the maximum compensation you deserve. Call us now at 1-844-GAJUSTICE or contact us online to schedule a free initial consultation.