Tips for Preventing Motorcycle Crashes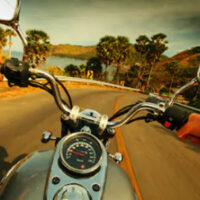 Motorcycling can be an exciting pastime and an easy mode of transportation in Georgia, yet bikes place riders at increased risk of serious injuries in a motorcycle collision when compared with motor vehicle occupants. As the Insurance Information Institute (III) underscores, motorcyclists are much less protected in a collision than a driver or passenger in a car or truck since they are not surrounded by the body of an automobile. As such, anywhere from 81,000 to more than 100,000 motorcycle accident injuries occur each year based on data from the last decade.
While motorcyclists should not have to worry about distracted, aggressive, or intoxicated motorists on Georgia's highways and neighborhood streets, these drivers often are responsible for serious and fatal motorcycle collisions. Motorcyclists can take steps or precautions to protect themselves, and we want to tell you more about those tips for avoiding injuries in a crash.
Take a Safety Course 
If you are a novice motorcyclist—but even if you are an experienced rider—taking a safety course can help you to learn methods for riding safely and avoiding collisions. Every biker should spend time learning and practicing safety basics on the road.
Wear Appropriate Safety Gear 
Whenever you ride a motorcycle, you should be wearing appropriate safety gear. If you are on a motorcycle, you should have on long pants and sleeves, and you should also be wearing gloves, boots, and googles or another form of eye protection. You must wear a motorcycle helmet—it is the most important and essential piece of safety gear.
To Reiterate, You Need to Wear a Helmet 
To reiterate the above, you need to wear a helmet anytime you ride a motorcycle in Georgia. It is the law, and helmets can prevent a large percentage of deadly collisions. If you fail to wear a motorcycle helmet and you sustain injuries in a collision caused by another driver, you could be at risk of losing your right to recovery under Georgia's comparative fault laws.
Wear Clothing and Install Gear That Makes You Visible 
Whether you are riding in the daytime or at night, make sure that you are visible to car drivers. You should wear bright or reflective clothing, and you should make sure that your motorcycle has working lights and reflectors.
Avoid Distractions 
Just as distractions can be deadly for an automobile driver, they can also be deadly for a motorcyclist. The more you remain aware of your surroundings, the more likely it is that you will be able to spot a distracted or aggressive driver and get out of the way.
Avoid Alcohol 
Many single-vehicle motorcycle collisions involve an intoxicated motorcyclist, and many collisions with automobiles also involve a drunk driver. You can help yourself by avoiding any alcohol consumption prior to getting on your bike.
Seek Advice Today from a Marietta Motorcycle Accident Attorney 
Were you injured in a motorcycle accident around Marietta or Tucker, Georgia? You may be eligible to file a claim for financial compensation. At The Strickland Firm, we focus on getting injury victims results, and one of our aggressive Marietta motorcycle accident lawyers can discuss your case with you today. Contact The Strickland Firm to learn more about the services we provide.
Resource:
iii.org/fact-statistic/facts-statistics-motorcycle-crashes#:~:text=In%202017%2C%205%2C172%20motorcyclists%20died,crash%20per%20vehicle%20mile%20traveled.
https://www.thestricklandfirm.com/who-is-liable-for-some-of-the-most-common-types-of-motorcycle-accidents/