Accidents Involving Rideshare Cars In Marietta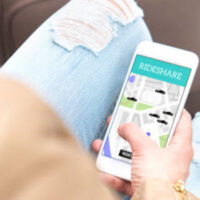 Ridesharing companies like Uber and Lyft have revolutionized public transportation, helping many become more mobile. However, sometimes accidents do happen, and it can be quite intimidating to determine how best to handle any injuries you might sustain in an auto accident with a rideshare, as opposed to an accident with an ordinary private vehicle. There are specific rules for rideshares, and it is generally a good idea to understand them before hailing a car.
Not Just Rideshare Passengers
Like most other states, Georgia has had to adapt to the advance of Uber and Lyft on the fly, as past regulations were more aimed at regulation of taxi cabs, and left many different loopholes that rideshare companies could slip through. In 2015, the state rolled out specific regulations on what were referred to as transportation network companies (TNCs), and since then, they have continued to evolve so as to make it much more clear when a driver may be found liable for injuries from an accident involving their car, and when they generally cannot be held responsible.
Perhaps most importantly, most people think of Uber or Lyft accidents as affecting a passenger in the car, but in reality, many times a pedestrian is the injured party. If an injured party is able to establish that the driver of a rideshare car was directly responsible for the injuries that they suffered, and that no other intervening cause existed, they may be able to recover under the rideshare company's insurance policy, regardless of their position at the time of the accident.
Only Covered Sometimes
If you have been injured in an accident with a rideshare car, you may be able to hold the driver liable for your injuries. However, there is one wrinkle in Georgia law that may cause an unpleasant surprise for many: while changes to Georgia's insurance laws in 2018 made it a requirement that rideshare companies carry a $1 million insurance policy (and sometimes more) to cover their drivers – but only while they are working. "Working" includes times when they have the app working and they are either searching for a new fare, going to pick one up, or transporting one.
If you were struck by an off-duty rideshare driver, it can make your case more complex, because it means that you will not have access to that insurance policy, only to the personal insurance (if any) carried by the individual driver. Sometimes bringing a standard personal injury suit may be worthwhile, but very often, individual drivers are judgment-proof – that is, they lack the assets that would be used to pay off any jury award against them. Each case differs, however, and consulting an attorney in these cases is always a good idea.
Contact Our Marietta Rideshare Accident Attorneys Today
As with any other auto accident, being in a crash involving a rideshare car can lead to serious injury and loss of quality of life. If you have been injured, contacting a Marietta car accident attorney at The Strickland Firm can go a long way toward illuminating your options and helping you navigate the legal process. Call us today for a free consultation.
Resource:
ajc.com/news/state–regional-govt–politics/georgia-senate-passes-bill-regulating-uber-lyft/tHXGqEKw5CyWqrJv4duijI/
https://www.thestricklandfirm.com/am-i-out-of-luck-if-i-have-an-accident-with-an-uninsured-driver/