Had A Slip-and-Fall Accident In Marietta?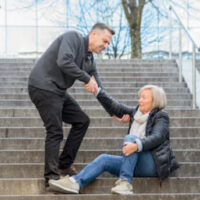 Anyone can slip and fall, especially in winter and spring when the weather is more inclement than usual. If you fall on someone else's property, though, you may be able to seek compensation if it can be shown that the owner or operator of the place was negligent. The area of law that deals with these kinds of issues is called premises liability, and Georgia's law can require some interpretation before the average person can understand who might be liable for their injuries.
Standard Of Care Matters
In Georgia, every store has the obligation to keep their property in a reasonably safe condition for their invitees. If they fail to do so, they are "liable in damages" to their invitees for any injuries that are caused by the store owner or operator's failure to exercise ordinary care in keeping the premises safe. In other words, if you are injured in a store, the owner or operator can be held liable if they can be proven to not have exercised the right level of care to keep their customers safe.
You must be able to show three things if you seek compensation over a slip and fall accident in Georgia: (1) that the store owner/operator failed to exercise ordinary care with regard to the safety of their customers; (2) that you suffered injuries; and (3) that those injuries happened directly because of the store's breach of the standard of care, with no other intervening cause. The first is arguably the most difficult to establish, as very often, a customer may only be on the premise for mere minutes before their accident, giving them very little time to observe the store's standard of care (or lack thereof).
Limited Time Frame
If you are able to establish that the store was negligent in your accident, you nonetheless may not receive the entirety of the amount awarded to you by a jury. In Georgia, a plaintiff will sometimes be held partially responsible for their own injuries, but instead of this barring recovery completely, it simply means that your award would be reduced by your percentage of fault. For example, if a jury awards $50,000, but finds that you were 30 percent responsible for your own injuries, you would receive $35,000 – $50,000 minus 30 percent ($15,000).
Keep in mind that Georgia does have a statute of limitations on these types of accidents, requiring that actions for injury to the person be brought to court within two years of the accident. However, unlike in many other states, the statute of limitations is different for injuries to "personalty," or private property – you have four years from the date of the incident to file suit over any property that was damaged. For example, if you file an injury claim with your insurer for any bodily harm you might have suffered from your slip-and-fall, you might still be able to bring an action in personalty over the loss of an expensive watch that broke when you fell.
Can A Marietta Slip-and-Fall Accident Attorney Help You Today?
A slip-and-fall accident can lead to serious injuries, but it can be hard to recover for your injuries. If you have been injured on someone else's property, you may be able to recover for the harm you have suffered, and enlisting the Marietta personal injury attorneys at The Strickland Firm can be the first step toward making sure your bills are paid. Call our offices today for a free consultation.