Who Can File A Wrongful Death Claim In Marietta?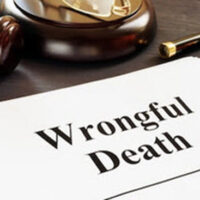 Losing someone you love is the most difficult thing you will ever have to go through. When the loss was due to the negligent, or careless actions of someone else, it is even more difficult to move on from it. It is sometimes possible for family members to file a lawsuit to recover damages from their loss, but doing so is not easy. Wrongful death claims are governed by many different laws and rules and one of these involves who is eligible to file these claims. Below, our Marietta personal injury lawyer explains this law, and other rules that apply to these claims.
Who is Eligible to File a Wrongful Death Lawsuit?
Under the wrongful death statute, family members of the deceased can file a wrongful death lawsuit when someone passes away due to the wrongful or careless acts of another person. If the deceased has a surviving spouse, they are the first eligible person that can file a wrongful death claim. The spouse is also entitled to a minimum of one-third of the damages recovered from the case.
In the event that the deceased does not have a surviving spouse, other family members can file a claim. The surviving children are next in line after a spouse and when the deceased did not have any children, other family members become eligible to file a claim. This can include parents, siblings, nieces, nephews, and grandparents of the deceased, as well as anyone else who can show they are a lineal descendant.
When to File a Wrongful Death Lawsuit?
Another law that governs wrongful death cases is the statute of limitations. This is the amount of time someone has to file a claim. In most cases, family members have two years from the date of the wrongful death to file a lawsuit. It is for this reason that it is important to speak to a Marietta personal injury lawyer right away. Prior to filing a claim, a lawyer will conduct an investigation and collect evidence to prove that another person's negligence was to blame for the death. If the statute of limitations expires, family members will likely forfeit their right to claim any damages at all.
There are some exceptions to the statute of limitations. For example, if the negligent party was a government entity, the statute of limitations is usually considerably shorter. If a government entity was to blame for the death, family members only have one year to file their claim.
Call Our Personal Injury Lawyer in Marietta Today
If you have lost someone due to the negligent actions of someone else, our Marietta personal injury lawyer can help you through this challenging time. At The Strickland Firm, our skilled attorney can advise on whether you are eligible to file a wrongful death claim and help you through the process so your family claims the maximum damages you are entitled to. Contact us today by calling 1-844-GAJUSTICE or fill out our online form to request a free consultation.