How To Drive Safely During Rush Hour Traffic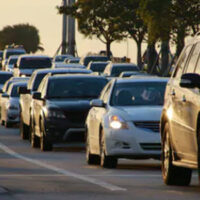 Rush hour is a very dangerous time to be on the roads. The streets are more congested, which always increases the chance of an accident occurring. People are also anxious to get home after a long day of work, so they may drive aggressively in an attempt to get home as soon as possible. Below, our Marietta personal injury lawyer outlines some tips to help you get home safely as you make your way through rush hour traffic.
Remain Calm
It is easy to become frustrated when you are on the roads and just trying to get home. With so many other drivers on the road, it is easy to become angry when someone cuts you off or otherwise acts negligently. However, it is crucial that you remain calm, as that will give you the best chance of arriving at your destination safely and avoiding an accident. Listen to an audio book, podcast, or music. This will make your drive feel shorter and will keep you entertained and calm while allowing you to keep your eyes on the road in front of you.
Know Where You Are Going
This one may sound obvious enough. Still, all too often, drivers do not realize they are quickly approaching their exit or that they have to make a right turn in the near future, but they are in the left lane. Knowing your route will prevent you from making quick movements on the road that could cause an accident. For example, if you are traveling in the left lane of a highway, you may notice that your exit is approaching faster than you thought. You might then make a last-ditch effort to get over to the right lane, cutting off another driver and causing a crash.
Know Multiple Routes
It is important to know your route so you do not drive carelessly and end up causing an accident. Even so, it is also important to know different routes to your destination. If one route is very congested, you can then take a different route and reduce your risk of becoming involved in a crash.
Stay Alert to Your Surroundings
Texting while driving, failing to check blind spots, and otherwise ignoring your surroundings is a surefire way to become involved in a crash. Never take your eyes off the road and always know what is going on around all sides of your vehicle. This will allow you to remain proactive, avoid dangerous situations, and react quickly when you need to.
Call Our Personal Injury Lawyer in Marietta Today
You can take all of the above steps during rush hour to prevent an accident, but another driver may act negligently and cause a crash. When that is the case, our Marietta personal injury lawyer at The Strickland Firm can help you claim the full damages you need to offset the financial burden of the crash. Call us today at 1-844-GAJUSTICE or fill out our online form to schedule a free case evaluation and to learn more about how we can help.
Source:
dph.georgia.gov/driving-put-down-your-phone-its-law