Four Reasons A Marietta Personal Injury Lawyer May Not Take Your Case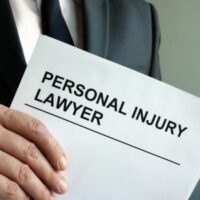 After being injured in an accident that was caused by someone else's negligence, you may have the right to pursue legal action. Through a personal injury claim, you can obtain financial compensation for your medical expenses, lost income, and more. To do this, you should enlist the help of a Marietta personal injury lawyer who can assist with your claim. While personal injury lawyers do want to help clients recover the full damages they deserve, there are four reasons why a Marietta personal injury lawyer will not take your case. These are listed below.
You Were Mainly At Fault for the Accident
A lawyer will ask you many questions about the accident when you first meet with them. The answers to these will help them determine how the accident happened, who was at fault for it, and the percentage of fault you carry. You cannot recover damages if you were more than 50 percent at fault for the accident and so, if a lawyer thinks you were the main contributor, they may refuse to take your case.
Your Case is Not Worth as Much as You Think it Is
It is a myth that personal injury lawyers will only take cases that are worth hundreds of thousands of dollars. Still, lawyers also need to make sure that any case they take is going to be worthwhile for them. If you only sustained very minor injuries, or only property damage, a lawyer may decline to take your case.
You Waited Too Long to File
All personal injury claims in Marietta are governed by the statute of limitations outlined under Georgia law. The statute of limitations is the amount of time you have to file your claim. In most cases, you have only two years from the date of injury or death to file a claim against the negligent party. There are some exceptions to this but they are very limited. If you wait longer than two years to file your claim, you will likely lose your right to claim any compensation at all and so, a lawyer may decline to take your case.
There is a Conflict of Interest
The State Bar of Georgia outlines very specific Rules of Professional Conduct for attorneys, and these rules sometimes dictate when a lawyer cannot represent someone. One of these times is when there is a conflict of interest. For example, if you were in a car accident caused by a defective auto part, you could file a claim for damages against the manufacturer. However, if the lawyer is already representing the manufacturer, that would create a conflict of interest and so, the lawyer would not be able to represent you.
Our Personal Injury Lawyer in Marietta Can Review Your Case
If you have been injured by a negligent person, our Marietta personal injury lawyer at The Strickland Firm can review the facts of your case and advise you of your legal options. Call us today at 1-844-GAJUSTICE or fill out our online form to schedule a free consultation.