Home
>
Blog
>
Car Accidents
>
How Long Do You Have To File An Insurance Claim After A Car Accident In Marietta?
How Long Do You Have To File An Insurance Claim After A Car Accident In Marietta?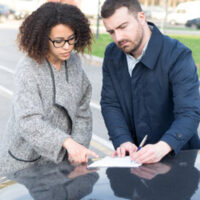 All car accident cases in Marietta, as throughout the rest of Georgia, follow tort law. This means that if you have been hurt due to another person's negligent or careless actions, you can file a claim with their insurance company to recover damages. Unfortunately, you only have a limited amount of time to do this. This time limit is known as the statute of limitations. If you do not file your claim within that time, you will likely lose your right to claim any compensation at all.
Although this sounds fairly straightforward, it is not. As with most legal issues, there are many exceptions to the statute of limitations. Below, our Marietta personal injury lawyer explains the amount of time you have to file your claim, and any exceptions that may apply to your case.
The Statute of Limitations After a Car Accident in Marietta
Under Georgia law, you have only two years from the date of your accident to file your claim after a car accident. This may sound like a lot of time, but it is not. Before you file your claim, a full investigation must be conducted to determine what happened and which driver was at fault. During the investigation, a Marietta car accident lawyer will collect important evidence to prove your claim. This may include video surveillance from dash cams or nearby businesses, eyewitness statements, and more.
Prior to filing, you must also determine the extent of your injuries. This is the only way to know the full extent of your past, current, and future losses. The investigation, collection of evidence, and medical treatment all takes time. As such, it is imperative that you contact a Marietta car accident lawyer as soon as possible so they can get started on your case and file your claim on time.
Exceptions to the Statute of Limitations
The majority of time, you only have two years from the date of the crash to file your claim. However, there are exceptions to the law. The main exceptions are as follows:
The negligent party was a government entity: If the accident was caused by a government entity, such as an improper road design, you typically only have six months to begin the claims process. If a government vehicle was involved in the crash, you only have one year to file your claim.
Injuries to a minor: If a child was injured during the crash, the parents can file a claim on their behalf, in which case the two year time limit would apply. The child, however, can also file a claim on their own. In this case, they have two years from their 18th birthday to do so.
The discovery of harm rule: The discovery of harm rule allows injured individuals two years from the date they discover their injuries to file a claim. For example, if an accident victim found out two weeks after their crash that they suffered a serious concussion, they would have two years from discovering the injury to file their claim.
Our Car Accident Lawyers in Marietta Will File Your Claim On Time
If you have been hurt in a crash, contact our Marietta car accident lawyers today. At The Strickland Firm, our skilled attorneys will ensure your claim is filed on time and give you the best chance of success. Call us today at 1-844-GAJUSTICE or contact us online to schedule a free consultation and to obtain the sound legal advice you need.