Common Mistakes Made After Car Accidents, And How To Avoid Them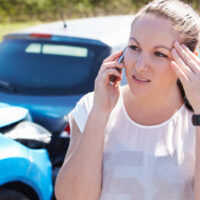 Car accidents are stressful and traumatizing, and this leads many people to make some common mistakes afterwards. These mistakes sometimes result in injuries becoming worse. They can also greatly hurt a person's car accident claim, which can result in a reduction of financial compensation. Below, our Marietta car accident lawyer explains the most common mistakes made after a crash on the road and how to avoid them so you can recover the full damages you deserve.
Not Calling 911
Under Georgia law, it is the law that you must report any car accident that results in injury or death to any person. You must also report a car accident that results in property damage that exceeds $500. Failing to report an accident when required will come with fairly serious consequences. Still, there is another reason it is important to report any car crash you are involved in. Calling police to the scene will help ensure an accident report is filed. This report may show that another driver was negligent, which can help you prove your claim for compensation.
Not Seeking Medical Attention
It is not uncommon for car accident victims to feel fine after a crash only to find out days or even weeks later that they suffered serious injuries. For example, concussions do not always present symptoms right away. As such, a person may sustain this type of injury but think they are not hurt. Weeks after suffering from constant headaches, they then learn that they did in fact, become seriously injured during the crash.
Some injuries are much more difficult to treat when they have been left untreated for some time. For this reason, it is of the utmost importance to seek medical treatment after any crash. It is also important to see a doctor as soon as possible so they can document your injuries right away. This documentation is important, as your medical records can prove the extent of damages you suffered in the car accident.
Admitting Fault
You should never admit that you were at fault for a car accident, even if you believe you contributed to the crash. If you admit that your own negligence contributed to the accident at the scene, it could drastically reduce the total damages you are awarded. Georgia law allows you to still claim damages if you are less than 50 percent at fault. Still, even when that is the case, the compensation you receive will be greatly reduced. Additionally, you never know what a police report or another driver may say, so it is always advised that you say as little as possible until you have all the facts.
Not Working with a Car Accident Lawyer in Marietta
It is a big mistake to file a claim on your own after a crash. At The Strickland Firm, our Marietta car accident lawyer will ensure no mistakes are made in your case so you recover the full and fair settlement you deserve. Call us today at 1-844-GAJUSTICE or fill out our online form to request a free case review with one of our seasoned attorneys.