How Do I Determine Fault for a Georgia Motor Vehicle Collision?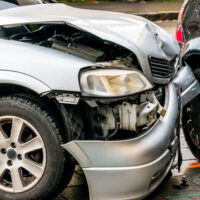 If you are injured in a car crash, a truck accident, a motorcycle collision, or another type of motor vehicle wreck, determining fault can be difficult. You might not know precisely how the auto collision occurred, even if you know that another motorist ran a red light and collided with your vehicle. In other words, it might be clear to you which vehicle caused the accident, but you might not have all of the facts you need to determine causation or liability. In some cases, for example, a truck accident might happen because of a tire blowout caused by an improperly loaded truck bed, or a car crash might happen because of defective brakes.
If you are considering the possibility of filing a car accident lawsuit, the best way to determine liability is to work with an experienced Georgia auto accident attorney who can evaluate your case and any relevant evidence to help you file a claim against the liable party. One of our experienced Marietta personal injury lawyers can help you with your motor vehicle collision claim. In the meantime, we want to discuss some key liability issues that might come up in your case.
Driver Error 
Most often, driver error is to blame for a serious car accident. There are many different ways in which a driver can make a mistake that results in a motor vehicle collision, from drowsy truck driving to distracted or intoxicated operation of a car or motorcycle. Your lawyer can assess your case and help you to determine whether driver error is to blame for your injuries, and which driver is at fault for your losses.
Auto Defect 
In some cases, an auto defect could be to blame, such as a design defect or manufacturing defect that results in a collision. Brake defects and airbag defects are two recent defect issues that have affected thousands of vehicles.
Another Party's Mistake or Negligence 
Depending upon the facts of your case, it could be possible that none of the parties involved in the collision are at fault for the crash. Unlike an auto defect case, however, where a removed party such as a designer or manufacturer of a vehicle part may be liable for harm, it is possible that someone linked to one of the drivers is at fault for the collision.
For instance, in a truck accident, like we mentioned previously, a tire blowout might lead to a collision with a smaller passenger vehicle, and that tire blowout might have resulted from an improperly loaded truck bed. Or, in a motorcycle collision, the crash might have occurred because of poorly maintained brakes, and a negligent mechanic could be at fault. Your Georgia auto accident lawyer can analyze the case to help you determine whether another party aside from a driver could be responsible for your injuries.
Your Own Liability 
In some cases, the driver filing the claim might also be accused of some liability for the crash. Under Georgia's modified comparative fault law, even if the defendant can prove that you are partially at fault, you can still be eligible for damages if you are less than 50 percent at fault.
Contact a Georgia Motor Vehicle Accident Lawyer 
If you need assistance determining liability in your motor vehicle crash case, you should speak with a Marietta personal injury attorney as soon as you can. Our firm can evaluate your case and help you to move forward with your claim for financial compensation. Contact The Strickland Firm to learn more about how we can assist you with your lawsuit.