New Study Addresses Braking Technology and Bicycle Accident Reduction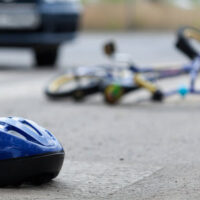 How often do negligent drivers cause serious injuries in car collisions involving bicyclists? These kinds of crashes occur more often than you might expect, and they are avoidable. When motorists are careful behind the wheel and avoid dangerous behaviors like distracted driving, aggressive driving, or drunk driving, they are less likely to harm a bicyclist in a collision. Beyond taking greater care behind the wheel, there are also technological solutions to preventing bicycle accidents and injuries involving negligent drivers.
According to a recent article in Automotive World, a new study suggests that "introducing real-time signals from a bicycle to a car can seriously reduce the number of accidents resulting in injuries or even death of cyclists." In order to introduce these real-time signals, automakers can improve the autonomous emergency braking system (or AEB) in a vehicle. In short, combining forms of new technology in AEB systems may reduce bicycle accident injuries and deaths involving motor vehicles.
Sensors and Predictive Mappings for Bicyclist Movement 
One of the ways in which autonomous emergency braking systems may be able to help reduce the rate of collisions between bicyclists and motorists is for AEB systems in vehicles to act as bicyclist sensors. Beyond sensor technologies within AEB systems, the study also suggests that these systems can be designed in order to predict cyclist behavior. Accordingly, if a bicyclist is traveling near an automobile, the AEB system would be able to sense the cyclist's position and develop a "preparation strategy" based on bicyclist predictive behavior.
The researchers in the recent study, working together from Bosch, Shimano, and TNO, conducted simulations that relied on this type of AEB technology, and they determined that "the important contribution lies in the ability to predict cyclist behavior."
Making "Intelligent" Bicycles to Reduce Accident Rates 
Beyond equipping motor vehicles with new and advanced autonomous technologies to reduce collisions with bicyclists, the researchers also found that the creation of "intelligent" bicycles that have similar sensors and predictive capabilities can further reduce the risks of a traffic collision involving a motor vehicle and a bicyclist. According to one of the researchers involved in the study:
"By testing this [intelligent] bike extensively you can, from a certain point, start to predict behavior. In traffic this can save lives, if and when this information reaches other traffic in time. If a car receives information that a bike is not preparing to brake at an intersection, it might be possible to initiate an emergency brake at an earlier stage."
In short, predictive technology might be able to work both ways, and it could reduce the rate of collisions if it is linked to AEB systems. In the meantime,
Contact a Georgia Motor Vehicle Collision Lawyer 
If you were injured in a collision with a motor vehicle, it is essential to get in touch with an experienced Marietta car accident attorney as soon as possible. One of the experienced lawyers at our firm can speak with you today about filing a claim for financial compensation. Contact The Strickland Firm today for more information about seeking compensation after a traffic collision.
Resource:
automotiveworld.com/news-releases/tno-real-time-signal-from-bicycle-can-reduce-number-of-serious-accidents/