5 Things to Know About Georgia Slip and Fall Accidents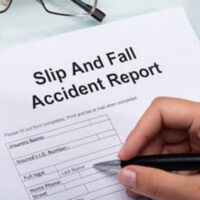 Slip and fall accidents can happen almost anywhere in Georgia, from inside the home of a friend or family member to outside a restaurant or retail store. Sometimes slips and falls happen because the person who slipped and fell was not being careful or was distracted by texting on a smartphone. In many cases, however, slips and falls occur because of the property owner's negligence. If you were injured in a slip and fall accident, the following are five things you should know.
Property Owner Has a Duty to Make the Premises Reasonably Safe

Property owners have a duty to ensure that their properties are reasonably safe for people who come onto the property, including customers or friends. Failure to make the premises reasonably safe can result in liability if a slip and fall occurs.
You Will Need to Prove that the Property Owner Was Negligent to Win Your Case

To win a slip and fall lawsuit, you will need to be able to prove that the property owner was negligent. In the case of a slip and fall, negligence generally means that a property owner failed to ensure that the property was reasonably free from hazards.
You Should Document the Scene Where Your Injury Occurred

Similar to a car accident, you should document the scene where you slipped and fell. If there was a liquid spill on the floor, or the carpeting was torn, or a light was broken in a walkway, take photographs that can be used as evidence later on.
Your Own Fault Could Limit or Bar Your Recovery

Georgia uses a modified comparative fault rule, which means that you can recover damages if you are partially at fault for a slip and fall accident in which you are injured. As long as you are less at fault than the property owner, you can recover damages, but your award will be reduced by your percentage of fault. Once you are equal to or more at fault than the defendant, you may be barred from any type of recovery. If you are concerned that your own negligence played a role in your slip and fall accident, you should seek advice about your case immediately from a Georgia personal injury attorney.
You Will Need to File Your Lawsuit Relatively Quickly

Under Georgia's personal injury statute of limitations, most injury victims will only have two years from the date of your slip and fall accident to file a lawsuit against the property owner. In some cases, the statute of limitations can vary if the slip and fall occurred on public property, for example. To avoid ending up with a time-barred claim, you should begin working with a personal injury lawyer as soon as possible to ensure that you are able to file your lawsuit in a timely manner.
Contact a Slip and Fall Accident Lawyer in Marietta 
When a slip and fall happens and someone gets hurt, it is important to hold the property owner accountable. One of our Marietta personal injury attorneys can speak with you today about your options for filing a premises liability claim. Contact The Strickland Firm to learn more about how we can assist you.