5 Things To Know About Distracted Walking Injuries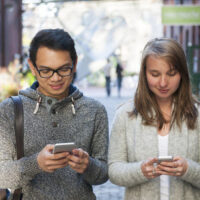 While distracted driving is certainly a serious problem that can result in life-threatening and fatal car accidents, it is also important to know that pedestrians can sometimes be at fault for collisions with automobiles or for other types of accidents and personal injuries as a result of distracted walking. Most of us know that it is not safe to operate a motor vehicle while your eyes, hands, or mind are focused on another task such as sending or reading text messages or snacking while driving. Yet taking your mind off the task of walking can also be extremely dangerous, particularly when you are not watching where you are going or crossing a street without looking both ways.
If you are injured in a pedestrian accident, you should seek advice from an experienced Marietta personal injury lawyer as soon as possible. In the meantime, the following are five things you should know about distracted walking accidents and injuries in Georgia.
Distracted Walking Has Become More Common Than It Used to Be
According to the American Academy of Orthopaedic Surgeons (AAOS), "the number of injuries to pedestrians using their phones has more than doubled since 2004, and surveys have shown that 60 percent of pedestrians are distracted by other activities while walking." The AAOS also reports that approximately 40 percent of Americans say they have seen a distracted walking accident or injury occur, and more than 25 percent admit that they have been involved in a distracted walking incident.
Distracted Walking Can Involve Various Forms of Distraction 
The AAOS emphasizes that distracted walking can involve a wide variety of distractions, including texting while walking, talking on the phone, viewing a streaming video on a smartphone while walking, or even listening to music.
Cell Phones Are the Primary Cause of Distracted Walking Accidents 
An article in EHS Today underscores that cell phone or smartphone usage is responsible for more than half of all distracted walking accidents.
Distracted Walking Accidents Are Avoidable 
Pedestrians can almost always avoid a distracted walking accident by focusing on the surroundings, and avoiding use of a smartphone for talking, texting, or listening to music while walking.
Pedestrians Who Are Partially at Fault for Injuries in Distracted Walking Accidents Can Have Damages Reduced 
Even if a car driver is largely responsible for a pedestrian accident, the issue of distracted walking can result in that negligent driver raising the issue of comparative fault. According to Georgia's comparative fault law, if the pedestrian is ultimately determined to be 50 percent or more at fault, that pedestrian will not be able to recover damages—even if the injury involved a collision with an automobile. If the pedestrian is less than 50 percent at fault, that pedestrian's damages award will be reduced by his or her percentage of fault.
Learn More from a Marietta Pedestrian Accident Attorney 
When another party is responsible for pedestrian injuries, it is essential to seek advice from an experienced Marietta pedestrian accident lawyer to find out more about filing a claim for compensation. Contact The Strickland Firm today to get started on your case.
Resource:
orthoinfo.aaos.org/en/staying-healthy/distracted-walking/