Car-Accidents and Self-Driving Cars: Study Says Crashes Will Still Happen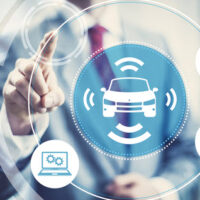 While self-driving cars are certainly not on the roads in Georgia the way they are in some cities in California and other western states, many Marietta residents have considered the ways in which autonomous vehicle technology might help to reduce car accident rates. Many residents of the Atlanta suburbs own cars that have some types of automated safety technologies, or driver assistance systems. Yet according to a recent report from the Insurance Institute for Highway Safety (IIHS), it is unlikely that fully autonomous vehicles will prevent crashes to the extent that many researchers originally believed. Indeed, according to that report, self-driving cars, if they do become the norm in cities and towns across the U.S., will likely only prevent about one-third of all auto collisions if those self-driving cars remain in their current form.
Driver Assistance Technologies and Human Error Behind the Wheel 
A majority of motor vehicle accidents are caused at least in part by human error. Autonomous technology is aimed at preventing car crashes that result from human error by taking away the human factor. Some of our vehicles already have certain forms of these technologies, yet human drivers still pilot the vehicles. These driver assistance technologies are known as advanced driver-assistance systems (or ADAS). According to the National Highway Traffic Safety Administration (NHTSA), these systems include the following:
Forward Collision Warning;
Automatic Emergency Braking, or AEB, including dynamic brake support and crash imminent braking;
Lane Assist, including lane departure warning (LDW) systems and lane keeping support (LKS);
Backup Camera, including a rearview video system (RVS);
Blind Spot Detection or BSD;
Pedestrian Automatic Emergency Braking, or PAEB, including frontal pedestrian impact mitigation braking;
911 Notification, or automatic crash notification (CAN) systems; and
Adaptive Lighting.
These technologies do help to prevent some crashes, but for some time, the thinking has been that a fully automated vehicle could remove human error altogether in order to prevent most, if not all, motor vehicle collisions. However, the IIHS study says self-driving cars likely will not prevent a majority of collisions.
Self-Driving Cars Only Prevent Some Types of Accidents 
As the IIHS study details, self-driving cars that are developed to their full potential will certainly be able to identify hazards on the roads better than human drivers. Yet the IIHS vice president for research who also co-authored the recent study says "this alone would not prevent the bulk of crashes."
Self-driving cars will be able to avoid collisions caused by "sensing and perceiving" errors, as well as errors caused by human incapacitation behind the wheel. However, these cars are not being developed with the ability to prevent crashes caused by "predicting" errors, or collisions resulting from "planning and deciding" errors or "execution and performance" errors. In order for autonomous vehicles to prevent these crashes (which account for almost 70 percent of all traffic collisions), the vehicles would have to drive at much slower speeds than roads currently permit and would need to forego convenience for safety.
Contact a Car Accident Lawyer in Marietta 
Car accidents still happen despite the presence of accident-prevention technology. If you were harmed in a collision, you should speak with a Marietta car accident lawyer about your case. Contact The Strickland Firm today.
Resource:
iihs.org/news/detail/self-driving-vehicles-could-struggle-to-eliminate-most-crashes
https://www.thestricklandfirm.com/car-accident-risks-in-hot-weather/