How Are Car Accident Claims Different When They Involve Children?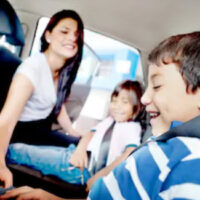 No one wants their child to become hurt. Unfortunately, when motorists drive in a negligent manner, they can cause an accident. When the driver's vehicle, or the vehicle they collided with is carrying children, they are at risk of becoming injured. Just like adults, children can receive compensation for their injuries, but filing a car accident claim for a child's injury does differ slightly from filing one for an adult. Below are the main ways in which child injury claims are different.
Children Cannot File an Injury Claim
Minors under the age of 18 are not considered to be an adult, which means they do not have the mental capacity to file a claim. As such, the child's parent or guardian must file the claim on their behalf. To recover the most compensation possible, parents and guardians should work with a lawyer that can help them file their claim.
Children can also wait until they are 18 years old to file their claim. This is typically only practical when the child is close to turning 18 at the time of the accident. If they will not turn 18 years old for several years, it is usually best for the parent or guardian to file the claim on the child's behalf, as evidence will disappear over time.
The Statute of Limitations is Extended
In Marietta, the statute of limitations is generally two years from the date of the accident. This is the time limit on your claim and if you do not file within that time, you will forfeit your legal right to claim damages. When a child is injured though, the two-year statute of limitations does not apply.
Instead, children have two years from the date of their 18th birthday to file a claim. Another reason to toll, or delay, the statute of limitations is if the child's injuries were not discovered right away. A child's bones, joints, muscles, and even their brain takes time to develop. If these important parts of a child's system are injured, the injuries do not always show up right away, but they can affect a child's development in the future. When the injuries are not discovered right away, children have two years from the date of discovery to file their claim.
Child Injury Claims Require Court Approval
Accident claims involving child injuries are just as likely to settle out of court as other claims. However, the settlement agreement must be presented to a judge and the judge must approve it. The court will always work in the best interests of the child and so, they may appoint someone to analyze the case files and report on whether the parents were also protecting the child's best interests. If it is found they did not, the judge can dismiss the case entirely, even if the insurance company offered a settlement.
Our Car Accident Lawyers in Marietta Can Help with Your Child's Claim
If your child has been hurt in an accident, our Marietta car accident lawyers at The Strickland Firm have the necessary experience these claims require. Call us today at 1-844-GAJUSTICE or fill out our online form to schedule a free consultation.