How To Prove You Were Not At Fault For A Car Accident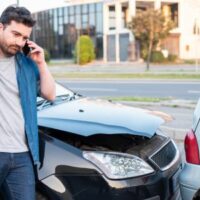 In Georgia, tort law governs car accidents. This means that to collect damages for your medical costs, lost income, and more, you will first need to prove the other party was negligent. They in turn, will likely try to prove that you were at least partly at fault for the crash to shield themselves from liability and to avoid paying the full amount of damages you deserve. If they are successful with that argument, you could forfeit a portion of the damages you are entitled to, or you may even lose the right to claim any at all.
To prevent this from happening, it is crucial to know not only how to prove the other party was negligent and caused the crash, but also to prove that you did not contribute to it. Below are some of the most effective ways to do this.
Prove Traffic Violations
If another driver broke the traffic laws of the state, such as speeding or running a red light, it is considered negligence per se, or negligence in and of itself. This means that proving the traffic violation is enough, and you do not have to prove that this constitutes an act of negligence. A car accident lawyer can help you determine if the other driver violated the vehicle codes of the state, and communicate it in the most effective manner.
Take Pictures and Video at the Scene
You should always take pictures and video evidence as soon as possible, while still at the scene. Accident scenes tend to get cleaned up fairly quickly, and pictures and video both provide strong evidence that show which driver was at fault.
Photograph the damage done to all vehicles involved, as well as the scene as a whole, which can capture the position of the vehicles. Also take pictures from the angle the impact was made, as well as any weather conditions that could be to blame. Lastly, take pictures of the injuries you sustained, before receiving treatment and throughout the course of treatment.
Obtain a Copy of the Police Report
After sustaining injuries or significant property damage in a crash, you should always call law enforcement to the scene. A police officer will collect information from the scene and write and file a report. Within this report, they may indicate which driver was negligent and caused the crash. While police reports are generally considered hearsay in court and therefore inadmissible, they can help convince the insurance company to pay the full damages you deserve.
Our Car Accident Lawyers in Marietta Can Prove Your Case
If you have been hurt in a car accident, it is important to speak to one of our Marietta car accident lawyers at The Strickland Firm today. Our seasoned attorneys know how to prove someone else was at fault for your crash, and defend against claims that you were partly at fault. After a crash, call us at 1-844-GAJUSTICE or contact us online to schedule a free consultation and to obtain the sound legal advice you need.