How To Recover Damages After Being Hurt In An Uber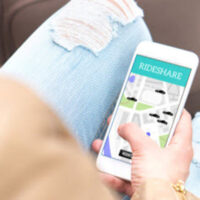 As of 2018, over one-third of Americans had used a rideshare service, such as Uber, according to a study by Pew Research Center. Increased rideshare use means more vehicles are on the road, which could lead to more accidents.
Car accidents are always confusing, but they are even more so when an Uber vehicle is involved. Insurance issues tend to become more complicated for Uber passengers after a crash, and they are difficult to sort through as you are trying to recover from your injuries. Below, our Marietta car accident lawyer explains how you can obtain the damages you need after a collision.
How to Recover Damages if the Uber Driver is at Fault
If you are in another vehicle and become hurt in a crash caused by the rideshare driver, Uber will provide up to $50,000 per person or $100,000 for the whole accident in coverage. This coverage is only available if the driver had turned on the app and was traveling to pick up a passenger.
If you are a passenger in an Uber and the driver causes a crash, Uber's insurance policy will provide coverage. In this instance, Uber will provide up to $1,000,000 for bodily injury.
How to Recover Damages if Another Driver is at Fault
Uber drivers are not always the ones that cause accidents on the road. It is entirely possible that another driver will cause a crash while you are in an Uber vehicle. When that is the case, you may still be eligible to collect coverage from Uber, but you must exhaust the negligent driver's insurance policy limits first.
For example, all drivers in Marietta are required to carry a minimum of $25,000 in insurance coverage. Many drivers do not purchase more than this because they do not want to pay higher premiums. If you are hurt as a passenger in an Uber, you must first file a claim with the negligent driver's insurance company, but you can only receive up to the policy limits. If the negligent driver only carried $25,000 in coverage and it was not enough to cover the cost of your injuries, Uber's insurance would cover the rest, up to $975,000, as they would reduce the amount you had already received.
Regardless of which insurance company you have to file a claim with, you should never do it alone. Insurance companies are notorious for denying, delaying, and reducing claims, no matter which party they are representing. A lawyer will ensure you receive the fair settlement you deserve.
Call Our Car Accident Lawyer in Marietta Today
Rideshare services are convenient, but they are not always safe. If you have been hurt, do not take the chance of dealing with the insurance companies on your own. At The Strickland Firm, our Marietta car accident lawyer will handle every aspect of your claim so you can focus on getting better and moving forward. Call us today at 1-844-GAJUSTICE or contact us online to schedule a free consultation and to learn more about your legal options.
Resource:
pewresearch.org/fact-tank/2019/01/04/more-americans-are-using-ride-hailing-apps/