Swimming Pool Slips And Falls: What You Should Know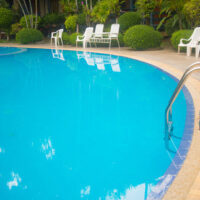 Slip and fall accidents can happen almost anywhere in the Atlanta metro area, and residents of Marietta can sustain serious slip and fall injuries in places ranging from supermarkets to restaurants to outdoor shopping and retail areas. Slips and falls can also occur at the homes of friends and family members, and in public spaces like parks. While many people know that it is important to take precautions near swimming pools, any precautions that are taken typically focus on drowning hazards. Yet as the summer approaches and more Georgia residents will be spending time at public and private outdoor pools, it is critical to learn more about poolside slip, trip, and fall risks.
Understanding Premises Liability Law in Georgia 
You may have visited a public pool or stayed at a hotel with a pool where posted signs emphasize the warning: "Walk! Don't Run!" Such signage is intended to prevent slip and fall accidents and injuries caused by pool water creating slick pathways around the pool. Yet sometimes, even if property owners warn about the potential risk of a slip and fall in this manner, they can still be liable for accidents that happen around pools. How can you know who is liable after a slip and fall accident happens at a public or private swimming pool?
To answer that question, we want to turn to Georgia's premises liability law. According to the statute, "where an owner or occupier of land, by express or implied invitation, induces or leads others to come upon his premises for any lawful purpose, he is liable in damages to such persons for injuries caused by his failure to exercise ordinary care in keeping the premises and approaches safe."
In other words, property owners (as well as renters, for example) must exercise ordinary care in ensuring that the premises are safe and do not contain any unreasonable hazards or risks. How does this apply to poolside slip and fall accidents?
Liability for a Poolside Slip and Fall Accident
There are obviously known hazards around pool areas, specifically when it comes to slick areas caused by pool water splashing out of the pool, or swimmers stepping out of the pool and dripping water onto walkways. However, property owners can be liable for injuries if they are negligent, which means if they fail to warn about potential risks caused by running near a poolside due to slick flooring or pavement, they may be responsible for harm. Negligence can also take other forms, such as:
Failure to repair cracked tile in the walking area around the pool;
Use of flooring materials around the pool that are not designed for poolside use due to their slickness when wet;
Failure to clear clutter from the walking path around a pool.
At the same time, you should know that a victim of a slip and fall also may have been negligent (e.g., by running around the pool area despite warning signs), which could result in a reduction of a total damages award under Georgia's comparative fault law.
Contact Our Marietta Personal Injury Lawyers 
If you have questions about seeking compensation after a slip and fall accident, our Marietta personal injury attorneys can help. Contact The Strickland Firm today to get started on your claim.