Home
>
Blog
>
Car Accidents
>
Frequently Asked Questions About Filing a Car Accident Claim During the COVID-19 Pandemic
Frequently Asked Questions About Filing a Car Accident Claim During the COVID-19 Pandemic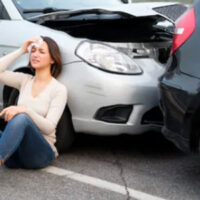 Suffering a serious injury in a car accident is devastating at any point in a person's life. Going through the process of seeking medical care for a life-threatening injury during the coronavirus pandemic can be much more stressful, and the prospect of filing a car accident claim can seem more complicated. At The Strickland Firm, we want to emphasize that the COVID-19 pandemic has made life much more difficult in many ways throughout the Marietta, Georgia area, but we are here to help with car accident claims during the pandemic. The following are some frequently asked questions about filing a car accident claim during the COVID-19 emergency.
Is It Safe for Me to Meet with a Car Accident Lawyer? 
You should know that you do not need to leave your home in order to seek assistance from a car accident lawyer in Marietta. Our firm can discuss various options for "meeting" with you virtually or over the phone, and we can get started on your claim. To be clear, you do not need to travel outside your house to get legal assistance. Even if Georgia's stay-at-home order is lifted but you are concerned about exposure to the coronavirus if you leave your home, you should know that a lawyer can still assist you with your claim.
Do I Need to Seek Medical Attention? 
There are many reports about hospitals in Georgia experiencing overwhelming numbers of coronavirus patients, meaning that anyone who seeks treatment in an emergency department for an injury caused by an accident could be at risk of exposing himself or herself to the virus and contracting COVID-19. Indeed, a recent report from NPR detailed how hospitals throughout Georgia—from urban to rural facilities—have been flooded with COVID-19 patients. As such, you may be wondering whether you really need to seek medical attention now, or whether you can wait.
In short, it is essential to have a medical evaluation after a car accident. If you plan to file a claim, you will need medical evidence that your injuries resulted from the accident. Further, waiting to seek medical attention could result in your injuries worsening and the at-fault party contending that your damages award should be reduced, or that you should be barred from recovery altogether by Georgia's comparative fault law. If you have serious concerns about seeing a doctor in person after your accident, you should find out immediately about telemedicine options, and you should speak with a healthcare provider about the safest way to have a medical assessment.
Should I Accept a Settlement Offer Since It Might Be Awhile Before My Case Can Move Forward in Court? 
Given that many Georgia courts are closed and that hearings have been postponed due to the coronavirus pandemic, claimants and plaintiffs may be tempted to take a low-ball settlement offer to get compensation on the sooner side. It is important to hold the insurance company or the at-fault driver accountable and to decline an unreasonable settlement offer. You will be able to move forward with your case, and your car accident lawyer will take steps to ensure that you receive the compensation you deserve as soon as possible.
Contact a Marietta Auto Accident Attorney 
Filing a car accident claim is complicated under any circumstances, but the coronavirus pandemic has added more complications. You should not worry, however. One of the experienced Marietta car accident lawyers at our firm can speak with you today about your case. Contact The Strickland Firm for more information.
Resource:
npr.org/sections/coronavirus-live-updates/2020/04/01/825351662/coronavirus-overwhelms-georgia-hospital-patients-flood-in-as-staff-weathers-expo
https://www.thestricklandfirm.com/accidents-involving-rideshare-cars-in-marietta/